Recycling plastic, transferring knowledge and creating jobs in Guinea
Touroulé Plastics recycles plastic in the Republic of Guinea, a country in West Africa. Their work benefits the environment, the local employment rate and efforts to transfer knowledge to local employees. The company received assistance with these efforts from a programme called the Dutch Good Growth Fund (DGGF).
'We started in Guinea some five years ago, using two sweepers to pick up litter along the route from Conakry Airport to the harbour,' says Dennis Loeffen, co-owner of Touroulé Plastics. 'For about the last year, we have been focusing on collecting, cleaning, shredding and sorting plastic as well. To shred the plastic, we bought a shredder in the Netherlands, which we transported to Guinea and had installed there. Our initial return shipment – approximately 50,000 kilos of recycled and bundled plastic – is currently making its way to the Netherlands. The first container is expected to arrive in a month's time. That plastic will be incorporated into new products being manufactured in Europe.'
Technical assistance
Touroulé Plastics was aided in these new activities by the DGGF. This programme is administered by the Netherlands Enterprise Agency (RVO.nl) at the behest of the Ministry of Foreign Affairs. 'The first assistance we received was of a technical nature,' Loeffen explains. 'RVO.nl helped us perform analyses, draft reports and recalculate our business model.' The DGGF provides technical assistance to companies that have one final step to take before they can invest in a DGGF target country. In this case, the assistance consisted of a subsidy to cover a portion of the start-up costs for the recycling activities.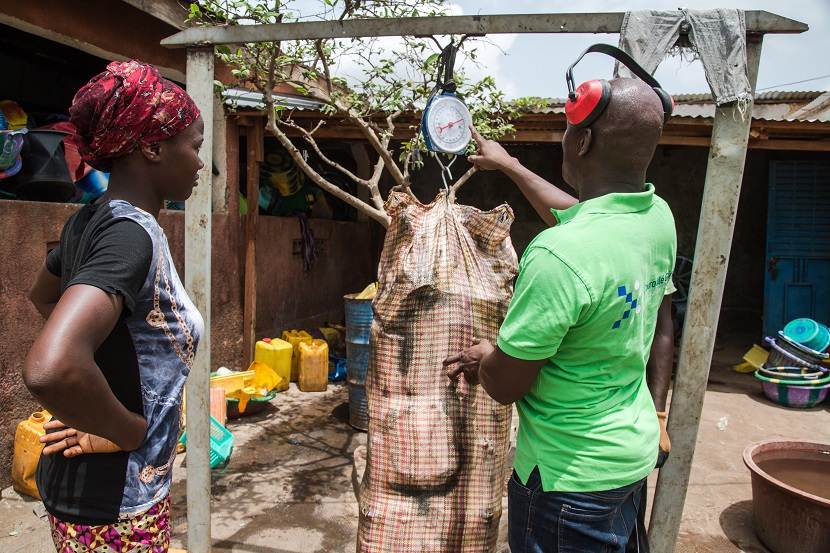 Cordaid
RVO.nl also used its network to help Touroulé Plastics establish new contacts with which to discuss potential business opportunities. 'We were introduced to the development organisation Cordaid, for instance. They helped us by evaluating whether our local contacts in Guinea had sufficient potential for a partnership with us,' Loeffen says.
Sharing experiences
During a trade mission in early 2016, Loeffen came into contact with Stiphout Plastics. 'They had experience in importing plastic from the Central African Republic, so we were able to exchange a great deal of knowledge with them.'
Subsidy
Lastly, Touroulé Plastics also received financial support from the DGGF. Loeffen: 'This funding covered our time, energy and investments in areas including acquisitions, transport and training local employees.'
Knowledge transfer, jobs and the environment
Loeffen was prompted to get in touch with RVO.nl by something he heard on a radio programme in 2015. During that broadcast, then-Minister for Foreign Trade and Development Cooperation Ploumen spoke of earmarking €50 million in funding for the DGGF. 'The DGGF encourages Dutch entrepreneurs to take advantage of opportunities and growth markets in West African countries. Those countries benefit from this as well: by doing business there, we transfer knowledge to the local community, create jobs and – in our case – work towards a cleaner environment.
Quick action
Without assistance from the DGGF, things might have turned out differently for Touroulé Plastics' recycling activities in Guinea. 'In any case, we would not have been able to act as quickly as we are doing now,' Loeffen believes. 'I estimate we will be in a position to weigh our costs, benefits and risks by the end of the year, allowing us to see whether our business is viable. Clearly, the DGGF has given our company a boost.'