The Makers suit manufacturers secures bespoke loan
From ready-to-wear to made-to-measure. Increasingly, people are preferring bespoke over ready-made suits. Since the customer always comes first, Dutch family business The Makers has upped its bespoke production. To do that, they need solid plans, more equipment and well-trained staff. The Makers got help from the Dutch Good Growth Fund (DGGF).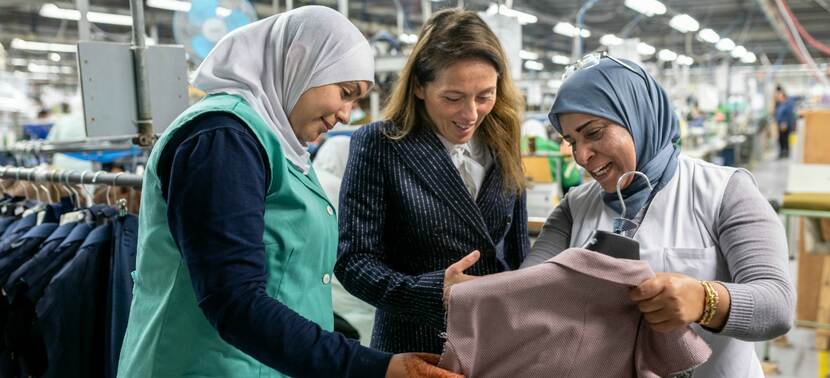 "Currently, twenty per cent of the suits we make are bespoke", says Angélique van Gils. She is the third generation working in the company. "We're ramping up to fifty per cent, but that requires additional investments in equipment and staff. To ensure the quality that tailored garments require, it's important that our employees know exactly what needs to be done. We want to teach them that at our own training centre."
Funding puzzle
The Van Gils family began their garment business in the Netherlands in 1948 as a small workshop producing children's clothing. In the 1970s, production was relocated to Tangier in Morocco. The company's growth has been such that it now employs over 1,300 people in Morocco. Though this is of course an excellent development, the Dutch-Moroccan connection made it difficult to secure a loan.

"Local banks in Morocco couldn't or wouldn't extend funding because they considered us to be a foreign business", Van Gils explains. "And the Dutch banks said that because our assets are in Morocco, we couldn't qualify for a Dutch loan. Luckily, a consultant told us about the DGGF. The DGGF advisers polished up our dossier. A few months later, we got the good news: our loan was approved. Thanks in part to their support, I think we'll achieve that fifty per cent within three years."
Golden tip
The DGGF was a lifesaver for The Makers. For businesses that are in the same boat, Van Gils offers an important tip.
"When talking with a DGGF adviser, introduce them to your world. You've got a specific plan, they know all about the financial end. If you can get your enthusiasm for your ideas across, they'll better understand what makes the loan important for your business."