Franzen Afrika improves year-round availability of high quality local grown onions
DGGF finances the expansion of Franzen Afrika in onion production and storage in Senegal. Whereas the company started greenfield production in the region only two years ago (also financed by DGGF), it has proved that teething trouble were limited and that the business case is strong. Onion import substitution by increasing the local production in the dry Senegalese season makes it possible that hundreds of jobs are created locally.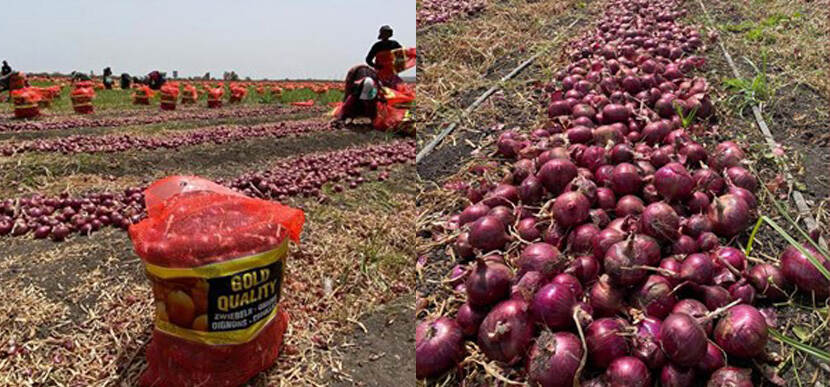 Onion favorite
The red onion is an unmissable ingredient in the Senegalese cuisine, comparable to what the potato is to the Dutch one. But, in the rainy season, onion cultivation is not possible. Moreover, storage facilities in Senegal lack quality due to which unions cannot be preserved for a very long time. Therefore, imports are necessary to have year round access to this product.
Increase onion production
To shorten the onion import season and lift the availability of locally grown onions for local consumption, it is Franzen Afrika's strategy to increase onion production outside the rainy season. Combined with  the use of proper cooled storage facilities in a part of the period that onions are not harvested. The whole period is not possible due to a too long storage period which affects the quality of the onions. During the wet season the company cultivates alternative crops to provide job continuity and have a proper crop rotation.
Both expansion in production and new storage facilities will be financed with a loan by DGGF. Frank Franzen, director of Franzen Afrika: "Increase of local onion production is in line with government policies and transfer of knowledge to Senegal. We are happy to take this next step with the back-up of DGGF".
More local jobs at Franzen
The Dutch farming company Franzen has been exporting potatoes and onions to West Africa for years. To respond to a growing demand, the company started the arable farm in Senegal two years ago with the help of the Dutch Good Growth Fund. The farm helps ensure food security and food safety in the region and contributes to food supply, employment and knowledge transfer. At Franzen Afrika already more than 200 jobs were created, the majority of which are filled by women. With the new expansion more jobs will be created and knowledge transferred.
DGGF
The Dutch government encourages businesses to share their knowledge and skills with developing countries like Franzen does. The Dutch Good Growth Fund (DGGF) helps Dutch entrepreneurs set up businesses in developing countries and emerging markets by providing them with funding or insurance against credit risks. Senegal is one of the countries that is eligible for DGGF funding for Dutch entrepreneurs.
Do you also have international ambitions? Take a look at the available options: Regulation assistant tool for the financing and insurance of international enterprise. Read more about the Dutch Good Growth Fund and the DGGF Country List.