Young entrepreneurs drive economic growth in Georgia
Young entrepreneurs are the key drivers for job creation, innovation and economic growth in Georgia. This is why DGGF – Financing local SMEs – is supporting Gazelle Fund, which provides financing to small, mainly SMEs owned by young people in Georgia and Armenia and expects to create more than 3,000 jobs.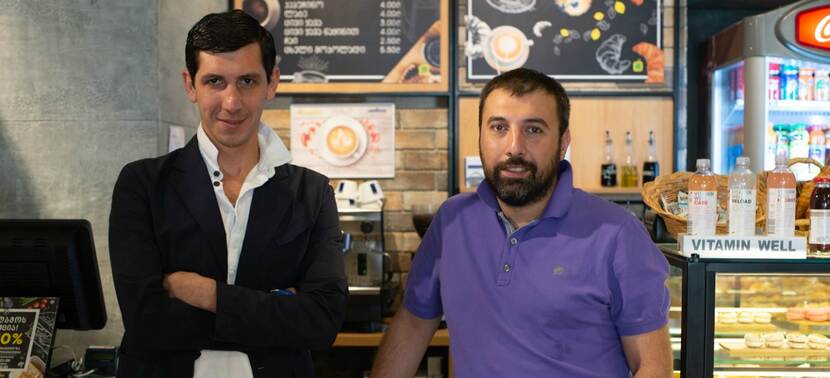 DGGF supports rapid growth of Degusto
When former classmates Giorgi Mushkudiani and Alexander Norakidze opened their first fast-food restaurant 'Degusto' in Tbilisi, Georgia in 2016, it was hard to imagine that within 3 years they would have grown to 250 employees, who are mostly young people like themselves. Even though they managed to receive enough capital to open four additional outlets, they still had a hard time finding other creditors and investors for the next phase of their expansion. In 2017, the Gazelle Fund stepped in and Degusto was able to open 5 new outlets, improve their kitchen and obtain an ISO certification. "Young entrepreneurs like Giorgi and Alexander are the key drivers for job creation, innovation and economic growth in Georgia," says Gazelle's CEO Jeffrey Liebert.
Additional support from DGGF's SC&BD programme
DGGF is one of the anchor investors into Gazelle Fund and provides additional support through its Seed Capital and Business Development (SC&BD) programme. For Degusto, the SC&BD programme co-financed the development of a system, which helps to predict demand and reduce food waste.
"DGGF is one of the most innovative investors in our area, and recognised early on that a first-time fund manager like Gazelle Finance needs a combination of both investment capital and technical capacity to serve SMEs like Degusto." Jeffrey Liebert, CEO Gazelle Finance
More information
If you want to find out more about other inspiring case stories about DGGF enabling entrepreneurship in frontier markets? Read our new impact report.