Financing local SMEs
DGGF 'Financing Local SMEs' applies a unique ecosystem approach. This combines investments with capacity building and ecosystem support initiatives to help local entrepreneurs. 
Enabling entrepreneurship in frontier markets
In the last five years, DGGF 'Financing local SMEs' has been able to create a positive impact in 60 countries by, among other things, supporting 47,000 jobs and financing more than 6,500 SMEs via its support to local finance providers.
Do you want to know more about how DGGF's unique approach is making an impact? Read our 'Enabling entrepreneurship in frontier markets' report.
You can find more inspiring case stories about entrepreneurs that were able to succeed with the help of DGGF's investment on the 'DGGF in practice' page.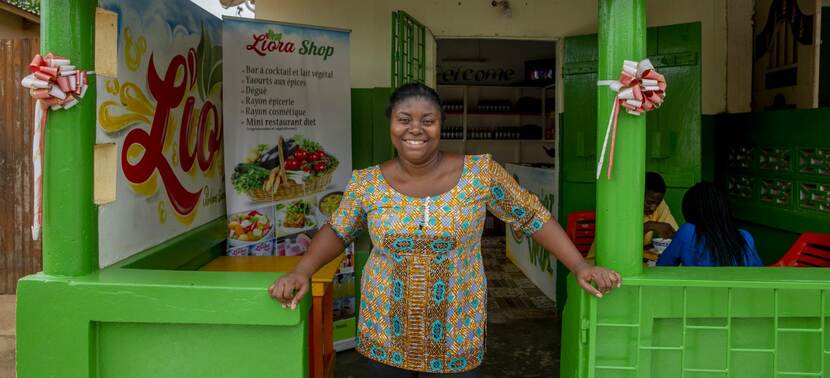 The DGGF 'Financing Local SMEs' is an initiative from the Dutch Ministry of Foreign Affairs. It aims to improve access to finance for 'missing middle' SMEs in selected DGGF countries. The 'missing middle' refers to entrepreneurs whose financing needs are not served by microfinance or conventional capital market players. Greater access to finance enables local SMEs to grow and thus contributes to sustainable development in frontier markets. DGGF particularly aims to invest in young or female entrepreneurs and entrepreneurs in fragile states.
The DGGF 'Financing Local SMEs' aims to reach the missing middle via two different ways:
Intermediary investment funds for local SMEs
Seed Capital & Business Development
Would you like to know more about DGGF's impact to date? Read the impact report 'Enabling entrepreneurship in frontier markets'.
1. Intermediary investment funds for local SMEs
To increase local SMEs' access to finance and improve the local financial ecosystem, DGGF 'Financing Local SMEs' invests in funds which then invest in businesses in DGGF countries. DGGF increases its impact by investing in intermediary funds that have the relevant knowledge and networks to reach local SMEs.
Quickscan
Do you think your investment fund for local SMEs meets the conditions for DGGF support? Then please fill in the online Quickscan - Intermediate financing of local SMEs.
Funds of funds model
DGGF uses a 'fund of funds' model. This is made up of two distinct levels in the investment chain.
DGGF invests in mainly locally operating, existing or new funds and financial intermediaries.
These financial intermediaries then offer a range of customised financing products to SMEs. DGGF does not invest directly in SMEs.
More information
2. Seed Capital & Business Development
The Seed Capital and Business Development (SC&BD) programme aims to further the impact of the investment services in 4 ways:
Supporting early-stage SME finance initiatives that are of strategic interest to DGGF, but too young, small or risky for an investment to form part of the DGGF investment portfolio right now.
DGGF investment clients can apply for technical assistance (TA) to strengthen their own capacity and operations or for business development services (BDS) to provide support to their investee SMEs and the broader ecosystem. Investment clients can get help with making sure their TAX/ESG/Result measurement practices meet DGGF standards.
Developing entrepreneurial ecosystems by supporting local initiatives that provide quality and affordable capacity-building services to young and first-time entrepreneurs in a sustainable way.
Developing and sharing practice-based knowledge by working with and learning from investees, co-investors and other field builders.

More information
DGGF is committed to improving the financial ecosystem for missing-middle SMEs operating in frontier markets. Increasing the access to finance to female entrepreneurs is a strategic priority. DGGF deploys a broad range of instruments. Read more about the Gender Lens Strategy.