Gender Lens Strategy
DGGF is committed to improving the financial ecosystem for missing-middle SMEs operating in frontier markets. Increasing the access to finance to female entrepreneurs is a strategic priority. DGGF deploys a broad range of instruments such as:
Investments into locally managed funds and financial institutions
Seed capital
Pre- & post-investment technical assistance
Ecosystem support
Knowledge development.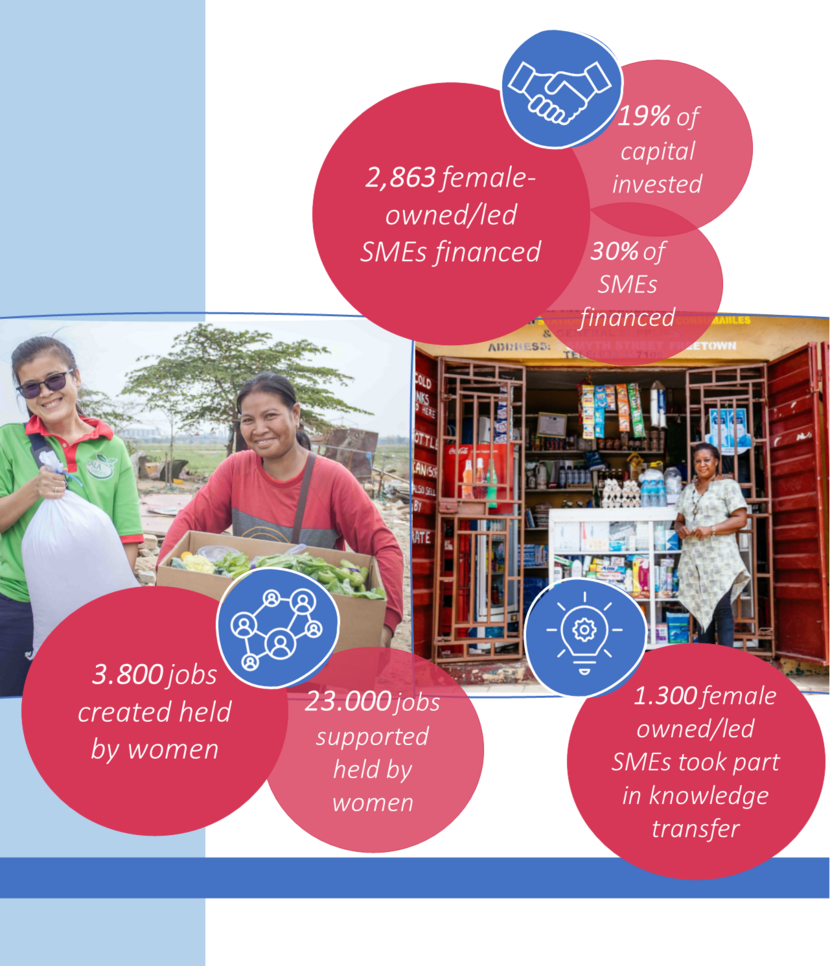 Through this inclusive and intentionally systemic approach, the DGGF has identified the where and how in order to reach female entrepreneurs owning and running SMEs. Via its investments, DGGF has gained a practical understanding of how to best support local capital providers to better serve female entrepreneurs' financial needs.  
Female entrepreneurs are particularly underrepresented in the SME sector across the world. Research indicates that a higher participation of women as business owners and in the workforce would be beneficial to a sustainable growth of economies*. However, women are often overlooked or discriminated by systemic biases in the entrepreneurial ecosystem which prevents them from growing their businesses. Reasons why fund managers and financial institutions fail to finance female entrepreneurs can relate to lack of networks, male oriented biases and practices in the investment process, as well as lack of tailored financial products. Women entrepreneurs on the other hand, could benefit from better access to education networks and opportunities to build an investment track record.
DGGF's approach
As DGGF Financing Local SMEs there is a strong commitment to reaching a minimum of 28% female entrepreneurs** with financing via locally managed funds and financial institutions. DGGF has developed a tailored product offering with the aim to address the most pressing obstacles throughout the finance value chain preventing women from obtaining suitable financing to grow their businesses. Together with key partners, DGGF aims to provide more financing and create awareness to achieve a systemic change of the financial ecosystem for the benefit of female entrepreneurs, female employees and women in the value chain.
DGGF has formulated the following priority areas:  
Women-oriented entrepreneur support organisations (ESOs)
Considerable evidence of women entrepreneurs' specific challenges to start and grow a business already exists. Two fundamental issues need to be addressed: 1) the high level of informality and 2) the gender biases of most known and implemented models of acceleration.
DGGF supports women-focused incubation models such as SHE and Innov'Up, which support female entrepreneurs with technical advice to register and grow their businesses while increasing their leadership skills and fundraising networks. DGGF continues to source and explore partnerships with women-led networks, which can offer safe learning environments for women entrepreneurs in underdeveloped economies and contribute to removing barriers for women entrepreneurs.
First-time fund managers & early-stage financial institutions with a gender lens
Financial intermediaries with an explicit gender lens strategy are more likely to finance female entrepreneurs and have a positive impact on women working with the business. However, such initiatives are still scarce and often are unsuccessful in fundraising due to a lack of track record and/or common working history. DGGF is tailored to first-time managers and finance providers who want to implement a gender lens strategy. Some of our investees already do so successfully, such as Capital 4 Development Partners (C4D), Acumen Latam Impact Ventures (ALIVE) and Alitheia.
For early-stage, first-time gender-lens fund managers who want to build a track record before raising a successor fund, a pilot with DGGF Seed Capital can help de-risk the investment proposition and catalyse other investors for a subsequent fund. DGGF Seed Capital provided pilot funding to Amam Ventures, Jordan's first GLI fund.
Many of the finance providers in DGGF's portfolio have an interest in increasing their outreach to female entrepreneurs, but lack the knowledge and experience to execute a gender lens strategy. We support fund managers and financial institutions in our portfolio with technical assistance (TA) to develop a gender-lens strategy or with gender lens research and products targeting female entrepreneurs. DGGF uses innovative incentive mechanisms (impact-carry/ interest rate rebate, TA) which link compensation of manager or cost of financing to gender-lens targets.  
More and more of the financial institutions through which we channel financing to SMEs are female-led or have female participation at partner level. Research indicates that women investors are more likely to have access to women entrepreneurs' networks and are more likely to succeed in establishing a relationship of trust with women entrepreneurs. DGGF believes women bring a different perspective and approach to financing SMEs in frontier markets, therefore strongly promoting diversity at the level of fund managers and financial intermediaries.
Knowledge development & sharing
By collecting data and disseminating knowledge products on gender lens investing DGGF contributes to greater awareness in the financial ecosystem.
Increase DGGF's internal capacity
To ensure alignment with objectives, an internal assessment of DGGF's investment team and processes was undertaken in 2020-2021. As a result, gender balance in teams and in decision making will be a constant; staff and IC members are continuously trained on gender lens investing. Furthermore, DGGF's investment screening and Due Diligence procedures have been adjusted to ensure that gender considerations play a consistent role throughout the entire process.
References
* = UN Secretary General's High-Level Panel on Women's Economic Empowerment, Leave No One Behind: A Call to Action for Gender Equality and Women's Economic Empowerment. Available here.
** = Female entrepreneurs are defined in line with the IFC definition: ≥ 51% owned by woman/women; OR ≥ 20% owned by woman/women; AND (i) has ≥ 1 woman as CEO/COO/President/Vice President; AND (ii) has ≥ 30% of the board of directors composed of women, where a board exists.