Haarlem company supplies solar solution to Nigeria
Independent Energy is a medium-sized company based in Haarlem that is exporting off-grid solar energy systems to Nigeria. Designed to allow people to generate their own energy, these systems offer a reliable and clean alternative to polluting diesel generators. The Dutch Good Growth Fund (DGGF) is financing the transaction.
Clean alternative
Independent Energy specialises in autonomous solar energy systems. As these systems are not connected to the electrical grid, users are wholly independent of energy suppliers. According to the company's COO Frank Hoogers, 'Electrical grids are very unstable in many developing countries. With grid power subject to frequent interruptions, the people living there often rely on diesel generators to provide an alternative. Any time there's an outage, you get the racket of generators being switched on, along with the terrible pollution. We offer a stable and clean alternative solution.'
Plug and play solar energy
Independent Energy exports to countries across Africa, the Middle East and South America, where there is immense interest in solar energy systems, but a serious lack of knowledge about how to build them properly. To fill the breach, Independent Energy began marketing the Izzy, a plug and play solar energy generating system. Simple to install, the Izzy is delivered as a complete package containing everything needed to supply your own power, including solar panels, batteries, an inverter (the system's brain), a battery charger and a monitor.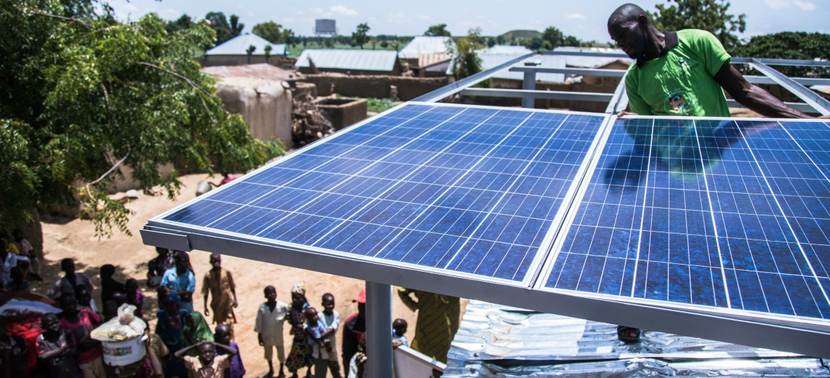 Market opportunities in Nigeria
Among the Dutch suppliers' new customers is Sosai Renewable Energy, a small firm based in Kaduna in Nigeria. Though established back in 2004, it only really became active in 2010, when CEO Habiba Ali found a number of partners willing to invest in her ideas.
'Here in Nigeria we have a huge market as the electrical infrastructure hasn't changed since the 1960s', explains Habiba. 'The power supply is not reliable, so people look for alternative solutions. Solar energy systems have been tried before, but because of the tendency to choose the least expensive solution, without the right knowledge, they never really worked.'
Nowadays, solar energy systems offer a faster return on investment than diesel generators. Even so, the investment in green energy is still out of reach for many organisations. 'In Nigeria, it's difficult to get financing', Habiba continues. 'And even then, interest rates of 25% are not unheard of, and loans often have to be paid back within a year. That doesn't make taking out a loan for a solar energy system very attractive.'
Dutch Good Growth Fund
Frank responds, 'We saw this problem and began looking at how we could help Sosai find a different solution to these funding difficulties. Our local bank wasn't too keen on financing a deal in Nigeria, so then I reached out to Atradius Dutch State Business and they told me about the Dutch Good Growth Fund. They made it possible to offer Sosia a deferred payment'.
'I am thrilled that the DGGF provided credit to fund the purchase of these solar energy systems', says Habiba, 'and I'm also very proud of the fact that we can offer our customers in Nigeria a pay-as-you-go plan. This has brought reliable, clean energy within reach for many more organisations'.
Enterprising woman
According to Frank, as a forward-looking entrepreneur focused on sustainability, Habiba has been a true catalyst. Habiba admits that 'being a female entrepreneur in Nigeria hasn't always been easy. You need to be hard-headed, I think, and maybe even a little different, or eccentric. But that also lets you get things done. For me personally, it was always about both striving for myself and helping and convincing others to take the next step.'
Frank and Habiba are treating this transaction as a pilot to assess precisely what the market needs. Expectations are high, however, and both are certain that this solution marks the first step towards a successful future.
Interested to learn more about foreign investment opportunities through DGGD? Read more on the DGGF website.
DGGF is a financial instrument of the Dutch Ministry of Foreign Affairs focused on emerging markets and is administered by the Netherlands Enterprise Agency (RVO.nl).