DGGF increases support for young entrepreneurs and youth employment in Africa
The Dutch Good Growth Fund (DGGF) - track intermediate financing of local SMEs - enforces its efforts to boost opportunities for young entrepreneurs across Africa. Africa has the world's youngest and fastest growing population, and youth unemployment is one of the continents biggest challenges. Creating opportunities for young people is key to inclusive development for the region.
Starting DGGF4Youth, DGGF is supporting two new investment initiatives and one technology hub; Sawari Ventures North Africa Fund, Novastar Africa Venture Fund II, and Sensi in Sierra Leone. Furthermore, DGGF launches a pilot of its Young Entrepreneurship Finance Program which will provide active mentoring of early stage finance initiatives.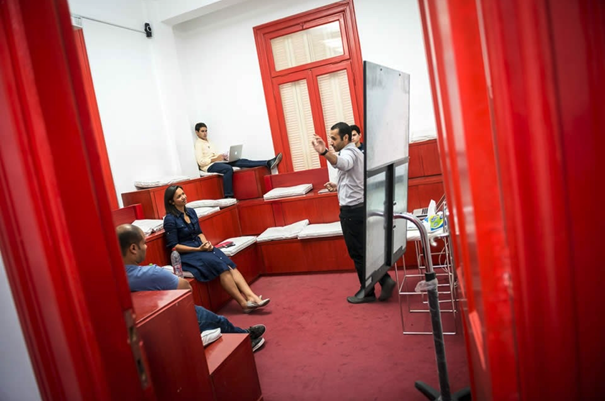 Support for seed and early stage companies
Sawari Ventures announced its first closing last weekend at the Africa Business Forum. Sawari Ventures North Africa Fund will receive a DGGF investment of USD 8 million and will be providing early stage venture and growth capital to innovative and knowledge driven SMEs in Egypt, Tunisia and Morocco. Sawari sees a clear need for these types of investments:  North Africa has a growing base of young and technologically savvy entrepreneurs with good business ideas, often overlooked by traditional investors. Sawari aims to cater to the needs of entrepreneurs from seed to growth stage, deepening the investment pool and entrepreneurial ecosystem in the MENA region. Part of Sawari's investments will go into start-ups in the fund's target countries via its accelerator operations, called Flat6Labs. The labs offer mentorship, legal support, networking and office space.

"We are convinced that equity investment in knowledge economy companies is a huge untapped opportunity in North Africa, and we are excited that DGGF shares that vision with us" - Wael Amin, Partner at Sawari Ventures.
Growing new stars and generating employment for a young workforce
DGGF has also committed USD 15m to Novastar Africa Venture Fund II, a venture capital fund dedicated to growing the "new stars" of both East and West Africa. Since 2014, Novastar has been backing early stage businesses, predominantly led by a young generation of entrepreneurs with the ambition to transform the markets they operate with in. The fund invests in businesses where positive social impact for low-income households is part of their commercial success. These companies will also contribute to creating employment opportunities for a young workforce.

"Novastar is dedicated to backing the next generation of exceptional young entrepreneurs in Africa who are building innovative businesses that serve and benefit the true mass markets on the continent. These 'new entrepreneurial stars' are not inheriting and running family businesses. Instead, they are pursuing breakthrough innovations to widen access, lower cost and improve quality of basic goods and services to low-income households." – Steve Beck, Managing Director Novastar Ventures.
Boosting the entrepreneurial ecosystem
DGGF's Seed Capital and Business Development Facility (SCBD) will be supporting Sensi, the first technology hub in Sierra Leone. Sensi was originally launched as an interactive platform during the Ebola Crisis and has since used its network to transform into a technology platform for young entrepreneurs. With 250 members, monthly events and annual acceleration programs, Sensi has grown to play a central role in the ecosystem for young entrepreneurs in Freetown. The support provided by DGGF will enable Sensi to professionalize its business operations and strengthen its support to start-ups. This will contribute to the growth of a conducive, lasting and vibrant ecosystem for young entrepreneurs in Sierra Leone.