App transforms smartphones into centres of malaria expertise
Social enterprise MOMALA is investing in a thorough and efficient method to diagnose malaria in Kenya. To help it achieve this aim, it has received a grant from the Dutch Good Growth Fund (DGGF). This scheme is administered by the Netherlands Enterprise Agency (RVO.nl) at the behest of the Ministry of Foreign Affairs.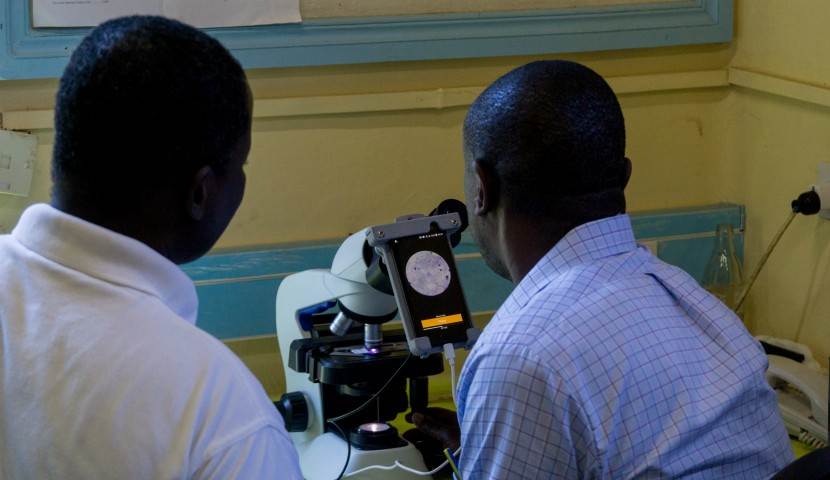 "Each year, malaria claims the lives of half a million Africans, mainly children aged five or under," according to MOMALA CEO Bouke Broeren. "It doesn't have to be this way. Malaria can be treated effectively, given the right medication and a proper diagnosis. The diagnosis part is one aspect of the problem. In the Netherlands, one in every 300 people has received medical training, but in some African countries, this number is as low as one in every 30,000 – 40,000. The predicted duplication of the African population over the next 20 years will only exacerbate this problem."
Digital blood tests
MOMALA wants to turn this around. "There are two common methods for diagnosing malaria," Broeren explains. "First, there are Rapid Diagnostic Test (RDT) kits, which are similar to pregnancy test kits, but require droplets of blood instead of urine. In most cases, the affordable variety of these kits is insufficiently reliable. The other method is a microscopic blood test. We have digitised a microbiologist's malaria expertise and distilled it into an app, which you use by placing your smartphone's camera lens on top of a microscope. The app examines the droplet of blood through the lens, 'reads' the blood and recognises the various types of malaria parasites. The next step is to proceed to treatment."
Speed and reduced costs
Broeren touts the app's many advantages. "By using the app, you can diagnose malaria three times more rapidly than by looking through a microscope. The test result is known within minutes. This will allow a single clinic to serve more people and ease the burden on overstretched laboratories. Moreover, the app is cheaper than an RDT, making high-quality care affordable to everyone – even those who live in rural areas in the least developed and poorest communities on earth."
Quality
Generally, the method yields higher-quality diagnoses than manual microscopy. "A reliable diagnosis prevents the prescription of malaria medication to people who do not suffer from the disease at all," Broeren says. "An associated risk is that parasites could mutate and become immune to medication."
Data
The app also yields large amounts of data. Broeren: "We use this to improve the app's malaria expertise. In the future, it will be possible to predict and anticipate malaria outbreaks. In addition, the data can be viewed in real time, so health authorities will know where a malaria outbreak has taken place and be able to take countermeasures to prevent the disease from spreading."
More qualified personnel
Only people who have received medical training can use the app. "These training sessions, which will be organised by MOMALA in partnership with Amref Health Africa, will only last a couple of days, whereas microbiological training requires three or four years – although the latter does cover more than malaria diagnostics alone," Broeren says. "As a result, more personnel will be qualified to diagnose malaria – even unskilled personnel in remote areas."
DGGF: business development
"As we were developing the app, several people told us to get in touch with RVO.nl," Broeren recalls. "We had a number of very pleasant meetings and are now using the DGGF's Technical Assistance. Aside from product development, we have a business in Kenya to set up. This requires market research, sales, distribution and finding the right local partners. The DGGF has given us peace of mind and helped us grow as a business. This has made us a more appealing prospect for investors, who can be cautious when it comes to the African market."
More information
For more information, please visit the MOMALA website.