Cultivating coffee to combat unemployment in Nepal
In 2015, Ben Kostwinder and his wife Linda visited the area of Nepal affected by the earthquake earlier that year. They experienced more than just the effects of the natural disaster:
'We saw severe unemployment, which mainly forced the men to work abroad for many years. They were unable to see their wives and children, or even return home for a short visit to help after the earthquake. We were very moved by this situation.'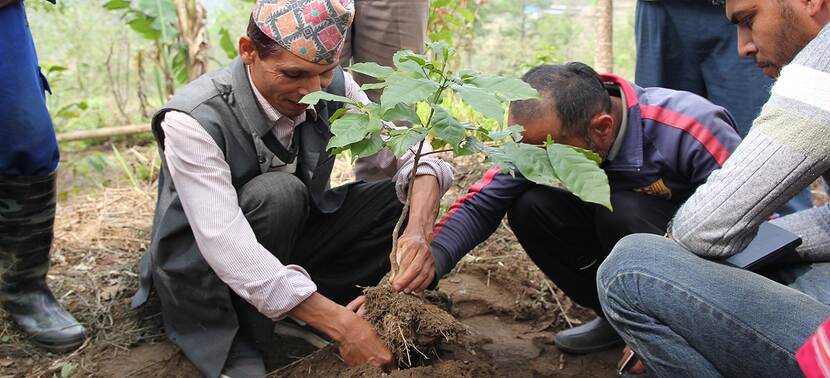 Ben and Linda felt a need to tackle the unemployment. The potential for growing coffee caught their attention:
'Although Nepal has the perfect climate to grow coffee, its potential is not yet being fully exploited. We saw the opportunity to do so ourselves.'
Over the course of 2016, both Linda and Ben left their jobs to concentrate on their new business: 80days coffee.
How does 80days coffee work?
'We give the farmers all they need to cultivate coffee, such as plants, compost, an irrigation system and training in harvesting coffee. They contribute the use of their land and their labour', Ben explains. 'We have signed agreements with them to establish a fair price for their coffee.'
So far, 80days coffee has helped over 20 farmers in Nepal start a coffee plantation. The business is still in the startup phase, because it takes an average 3 to 4 years before the first coffee can be harvested.
Fortunately, Ben and Linda are already selling coffee.
'We work with a number of farmers who were already growing coffee, which is what we are selling now. As a result, people can already experience the taste of coffee from Nepal', Ben said. 'The Netherlands Enterprise Agency helped us with the commercial scale-up phase of our business.'
Dutch Good Growth Fund (DGGF)
The Netherlands Enterprise Agency supports 80days coffee through the Dutch Good Growth Fund. This fund facilitates the growth of Dutch entrepreneurs who do business in developing countries and emerging markets. 'We need to purchase the coffee a year in advance, while it takes around a year to recoup the costs. To do this, the government provides us with pre-financing.'