DGGF in 2018: Improving access to finance for SMEs in challenging markets
With 16 new investments, DGGF track 'intermediate financing local SMEs' saw a substantial increase of committed capital from EUR 181M in 2017 to EUR 296M in 2018. DGGF's supplementary Seed Capital and Business Development program (SC&BD) experienced similar growth with cumulative commitments increasing from EUR 16.6M to EUR 24.6M. Some examples of transactions concluded in 2018 are set out below.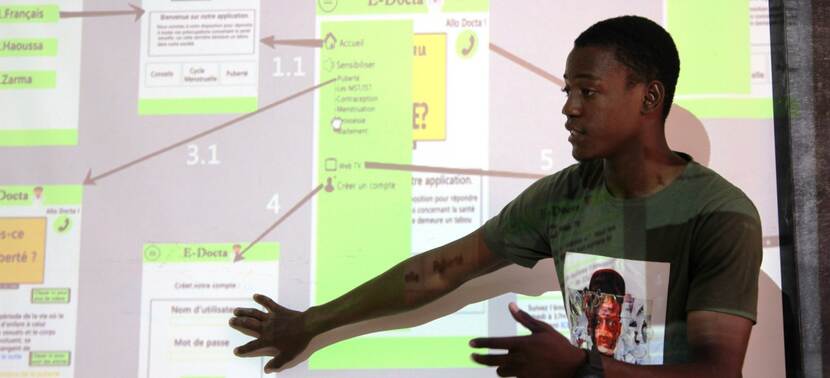 Increased support for young entrepreneurs and youth employment in Africa
Throughout 2018 and starting 2019, DGGF enforces its efforts to boost opportunities for young entrepreneurs across Africa. Africa has the world's youngest and fastest growing population, and youth unemployment is one of the continents biggest challenges. Creating opportunities for young people is key to inclusive development for the region.

Kickstarting its DGGF4Youth initiative in 2018, DGGF has supported two new investment initiatives and one technology hub. Sawari Ventures North Africa Fund is mentoring and financing early stage businesses predominantly set up by young entrepreneurs in Egypt, Tunisia and Morocco, providing also accelerator services through its Flat6Lab facilities. DGGF also backed Novastar Africa Venture Fund II, a venture capital fund dedicated to new businesses in Kenya, Uganda, Tanzania, Rwanda, Ethiopia, and Nigeria. Furthermore, with SC&BD, DGGF supported Sensi, a technology platform for young entrepreneurs in Sierra Leone, Impact Lab, an open innovation incubator expanding to Tunisia, H7, the newly established accelerator and entrepreneurship hub in Casablanca, Morocco, and CIPMEN, the first incubator in Niger to support IT and agribusiness in the country. The Youth Entrepreneurship Program was also launched, with its first pilot in Ethiopia, to identify and build the capacity of local champions to run scalable business models that are tailored to the local context and youth target group. Lastly, SC&BD made a follow-on investment in Iungo Capital after its investment model was successfully piloted. Iungo leverages the involvement of local business angels as co-investors to provide self-liquidating growth capital to local SMEs. The fund will now be fully rolled out in Uganda and establish presence in Rwanda and Kenya.
 
More in Africa
In West Africa, DGGF supported I&P's new fund IPEA II, which provides funding and support to smaller SMEs across the West African region with a focus on fragile states. In DRC, DGGF provided a loan to Advans Banque Congo to expand its SME portfolio in this highly underserved market. DGGF further contributed to investments in food security in the region, by an investment in the Africa Food Security Fund ("AFSF") managed by Zebu Investment Partners in Ghana and South Africa. SC&BD also provided seed capital to ACTB Savings & Loans Limited, one of the first and largest upscaling microfinance banks in Sierra Leone, to expand SME lending operations and develop savings products targeted at women and young entrepreneurs. In Liberia SC&BD is also financing the pilot of Gemini, an investment fund focused on building and investing in local growth-oriented SMEs.
 
Latin America
DGGF became a cornerstone investor in the Acumen Latin America Early Growth Fund (ALEG), which focuses on high impact investments in predominantly Colombia, Peru and Guatemala. DGGF provided additional funding to Genesis and Raiz, both small business lenders active respectively in Guatemala and Peru. SC&BD is also supporting Genesis to set up business support centres across the country, the first of which was officially opened in Sacatepéquez last year. In Colombia, after initially receiving Seed Capital in 2017, further support was provided to Sempli; an innovative fintech start-up that provides funding solutions for small businesses that often have challenges obtaining a bank loan. Finally, through providing a local currency loan to Finca Haiti, DGGF contributed to the development of an underserved SME market in this fragile state.  
 
Asia
In Asia, investments were made in a local SME fund in Vietnam (Asia Business Builders) and one in Myanmar (Anthem Asia). ABB is able to provide additional HR and IT support to companies through SCBD Business Development support. Anthem, which is managed by a women-led team, is expected to have significant outreach to female entrepreneurs and to promote women in leadership roles. DGGF also partnered with Dutch player ICCO Investments to provide capital to its C4D Fund. The C4D Asia Fund will make equity, mezzanine and debt investments in growing SMEs in India, Indonesia and the Philippines, with a focus on SMEs that have a strong socio-economic impact on the lives of people from marginalised communities. SC&BD anchored the debut of Emerging Market Entrepreneurs (EME) in Myanmar, an investment firm focused on start-ups that innovate scalable solutions, preferring those that serve the rural market. In Bangladesh SC&BD supported Aavishkaar with setting up the first angel investment network in the country. As part of #ClosingTheGap Mekong series, three workshops were held in Myanmar, Laos and Vietnam, to identify challenges and opportunities for the "missing middle" in the local ecosystems.