Female entrepreneurs advancing reproductive health in Côte d'Ivoire
On 8 July 2019, Raïssa Marteaux, Deputy head of mission at the Embassy of the Kingdom of the Netherlands in Côte d'Ivoire and Nouss Bih, Investment Manager for Investisseurs et Partenaires (I&P), met with Dr. Myriam Kadio-Morokro Brou, the founder of PROCRÉA.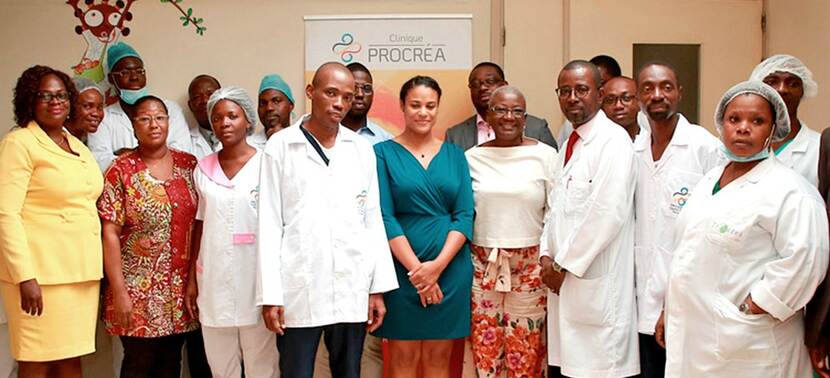 Leader for Medically Assisted Procreation (MAP)
I&P Afrique Entrepreneurs II (IPAE 2) is one of the most recent investees of DGGF Financing Local SMEs. PROCRÉA, a recent IPAE2 investee, was created in 2006 on the initiative of Dr. Myriam Kadio-Morokro Brou, principal promoter and CEO, and Professor Marie-Laure Hauhouot Attoumgbré, co-promoter, both of whom are recognized experts in Côte d'Ivoire in the fields of biology and reproductive sciences. The clinic is specialized in the area of reproductive health and is the leader in Côte d'Ivoire for Medically Assisted Procreation (MAP), a technique that allows people who have difficulty having a child to successfully give birth. PROCRÉA's offer also covers mother-child health, including obstetrical gynecology, neonatology (newborn health), and pediatrics. PROCRÉA's project is to build a new state-of-the-art clinic to expand its activities and consolidate its position as the leading center dedicated to mother-child health and MAP in Côte d'Ivoire and the further region.
 
Procrea's expertise
The visit started with a meeting, in which Dr Kadio-Morokro presented the team, current activities of the clinic and its ambitions with the new project. It was inspiring to see the passion and dedication with which Dr Kadio-Morokro and her team have grown the clinic. Absolute highlight was seeing the results of years of hard work in the faces of dozens of babies. In addition, a short film presenting the architectural project was screened. The participants followed with a visit of the facilities, with a special emphasis on the MAP lab which allowed to highlight the extent of Procrea's expertise.