Habibi Plantitas is making nature the trend in Colombia
With only 200 dollars in savings, the young sisters Marcela and Carolina started their business Habibi Plantitas from their parental home in Medellin, Colombia. With the support of Sempli, and DGGF's Seed Capital & Business Development (SC&BD) Programme, Habibi Plantitas is now able to export to countries as far as the USA and Australia.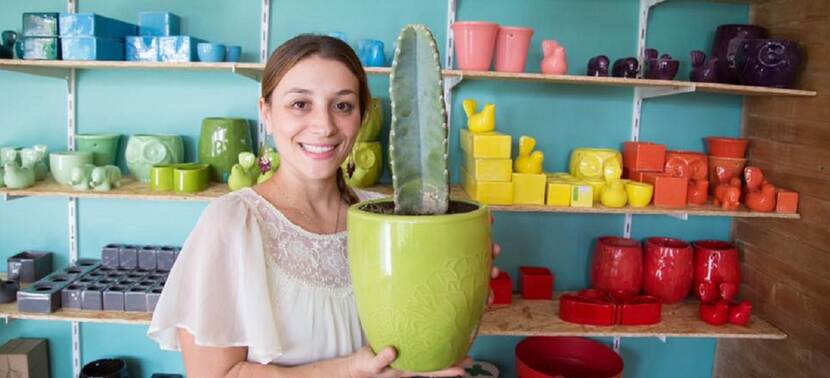 Handmade in Colombia to the USA and Australia
Marcela was only 25 when she realised her dream of starting her business Habibi Plantitas in Colombia, together with her younger sister Carolina. Habibi Plantitas sells potted plants online and through Facebook. "Making nature the trend" was and still is their slogan. Initially, one of their biggest challenges was the cheap competition, from China in particular. On the other hand, Habibi Plantitas delivers artisanal-quality, handmade and locally produced products, which paid off. The sisters started with two employees but now work with 28 craftspeople, mostly single mothers. Today, they export to countries as far as the USA and Australia. In addition, they design, create and manage gardens for families, companies and special events.
Pioneering innovative financial solutions for SMEs in Colombia
The next big challenge for the sisters was obtaining sufficient capital to grow. At first, they did not dare to ask for a bank loan, knowing how difficult it would be for them as a young and female-led start-up. However, at the end of 2016 they heard about Sempli, an innovative fintech company that assesses and processes loan applications using high-tech algorithms. Thanks to its innovative credit process methodology, Sempli can serve customers who were previously unable to get a bank loan.
"It was love at first sight", remembers Marcela. "They were not just another bank", says Carolina. "Sempli immediately felt like family. They came to us, instead of us having to go to them. They took care of everything, and everything can be done online. They are really quick." The money received from Sempli was spent on inventory and new staff. The entrepreneurs' parents, who also help them out, became shareholders. The two sisters have the ambition to grow their business further with the support from the Sempli team.
DGGF's support to Sempli
In 2017, Sempli started receiving support from the  Seed Capital & Business Development (SC&BD) programme in the form of venture debt and late 2018 graduated to the DGGF investment portfolio. Sempli represents the first digital lender in Colombia. Since going live in 2017, they have grown to over 200 clients.
Want to know more about the way DGGF is enabling entrepreneurship in frontier markets? Read our new impact report.