Flexknit chooses sustainable alternative to forest firewood
Dutch entrepreneurs Arno Steenkist and Jeroen Stuurop have been producing knitwear in Madagascar for over 20 years. Their company, Flexknit, is an important employer in a country with a lot of poverty. Even during the coronavirus pandemic, the company continues to be a source of income for around 6,000 employees. The majority of these are unmarried women.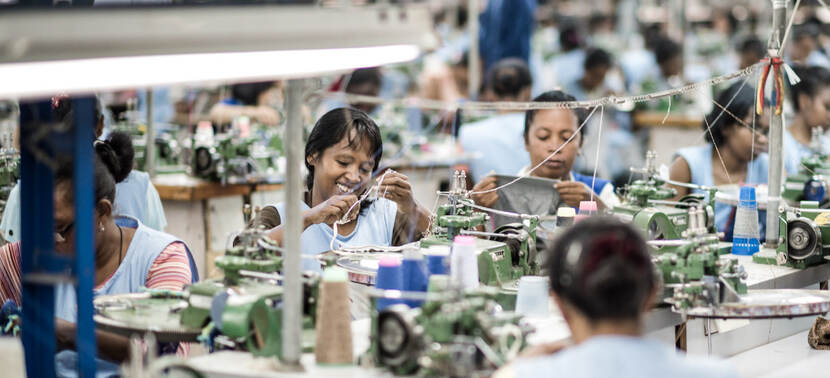 But Flexknit's ambitions do not stop there. The company wants to make the entire textile industry in Madagascar more sustainable. It hopes that other companies will join its efforts.
International financing
Flexknit has received a loan from the Dutch Good Growth Fund (DGGF). The company is using this loan to invest in sustainable energy and more efficient production.
Smart fuel
Madagascar is famous for its unique flora and fauna and its biodiversity. But the country is facing deforestation due to the demand for firewood. The textile industry requires a lot of wood to generate steam for ironing, steaming and washing. To combat deforestation, Flexknit uses fuel briquettes instead.
Flexknit plans to invest the DGGF loan in a factory that will make such briquettes from natural materials, such as rice hulls and giant cane. "Thanks to the DGGF loan we can scale up our plans quicker than we thought," says Arno Steenkist. "This means we can provide briquettes to other businesses sooner." Next to using the briquettes itself, Flexknit wants to sell them to other businesses that use steam for production processes. To guarantee a supply of raw material, Flexknit is also investing in a giant-cane plantation. The giant cane introduces nutrients into the soil and makes the land more fertile.
Staying strong despite crises
Over the years, Flexknit has dealt with many crises on the island. Madagascar is vulnerable to natural disasters and has a history of political instability. In the past, these have led to major delays in import and export flows and import sanctions for some markets.
Experiences like these have prompted Flexknit to develop a conservative business model. It is based on stable, moderate growth that is able to adapt effectively to difficulties. Recently, the company successfully dealt with the coronavirus crisis. DGGF has confidence in Flexknit's strategy and is happy to support the investments the company has in mind.
Would you like to set up an impactful international business like Flexknit? Via the DGGF fund, the Netherlands Enterprise Agency finances projects in developing countries and emerging markets on behalf of the Ministry of Foreign Affairs. Simply send us an email and our advisers will be happy to provide tailored advice with no obligations.
Would you like to know more?
Find out more about DGGF investments.
Find out more about Flexknit.