Indian Khaloom weaves sustainable textiles
India has a rich tradition in textile production. Textiles expert Hema Ramakrishnan aims to preserve this tradition. Ramakrishnan is Operations Director of Khaloom. The company makes sustainable hand-woven products. Ramakrishnan also wants to create job opportunities for women. With a loan from the Dutch Good Growth Fund (DGGF) Khaloom can expand and strengthen production.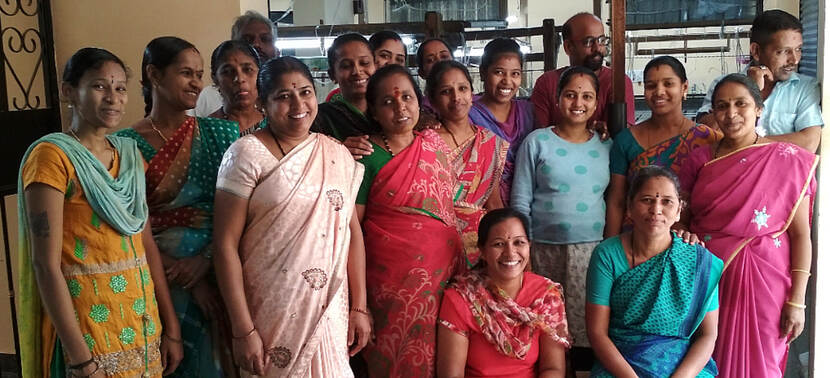 Ramakrishnan has been working as a textile designer and manufacturer for over 30 years. "I am passionate about my work and particularly about the traditional craftsmanship. There are whole communities where the art of weaving is passed down from generation to generation." As Operations Director of Khaloom, she seeks to preserve that tradition in Bangalore. "I want to offer male and female weavers a good job and a good wage. That way, they will not choose to work in different sectors just for the pay."
Thread from textile waste
Khaloom started in 2017 with knowledge and financial support from Enviu. This Dutch organisation joins startups which aim to address ecological and social issues. Khaloom fitted perfectly into an Enviu programme for the sustainable clothing industry. "We tackle the textile waste problem by using recycled thread. Social and sustainable goals come together beautifully, as weaving it into rolls of fabric takes human handiwork and weaving looms. Weaving machines often have too great an impact on recycled threads."
Loan for further growth
Khaloom wants to expand. "We need more people, more weaving looms and a new production site," Ramakrishnan explains. "That way, we can supply larger buyers. They, in turn, can generate more operational reliability. The point is that you first have to invest before you can get any return on it. The DGGF loan enabled us to expand further and create more local impact. We aim to grow to 100 weaving looms and as a result of that, to grow to a workforce of 150. We have already employed dozens more people."
More sustainable thanks to coronavirus
Khaloom now supplies renowned Indian brands such as Fabindia, The Summerhouse and Doodlage. The coronavirus pandemic halted growth for a while. "Due to the lockdown, we had to close for months; we had no orders. The IKEA Foundation enabled us to continue paying the workers' wages. We are up and running again now and can continue growing. Besides all the suffering, the coronavirus crisis also brought about some good. The planet protested: now more people feel the need for a more sustainable and more social-economic system. In the textile industry too. We want to contribute to that."
Sustainable fabric
There is an increasing demand for sustainable yarn worldwide. Khaloom offers manufacturers to produce garments with fair and sustainable fabrics. The company uses recycled yarn derived from the textile production process. They also produce yarn made from textile waste. Additionally, Khaloom uses hemp and linen which have a positive impact on the environment compared to cotton. They will continue to experiment with new sustainable yarn. As well as informing their clients about the use of sustainable yarn.
More information
Would you like to set up an impactful international business like Khaloom? Via the DGGF fund, the Netherlands Enterprise Agency finances projects in developing countries and emerging markets on behalf of the Ministry of Foreign Affairs. Simply send us an email and our advisers will be happy to provide tailored advice with no obligations.
Read more about: