Making fair slippers in good working conditions
Kingdom of Wow has been producing sustainable footwear in Cambodia since 2017. The products are handmade by women. With financial help from the Netherlands Enterprise Agency, the company was able to reach the Dutch market and later the American market as well. Now, it is partnering with a well-known Dutch brand, for whom they have made a sample collection of customised shoes. Not only does Kingdom of Wow ensure fair terms of employment, the company also remains competitive.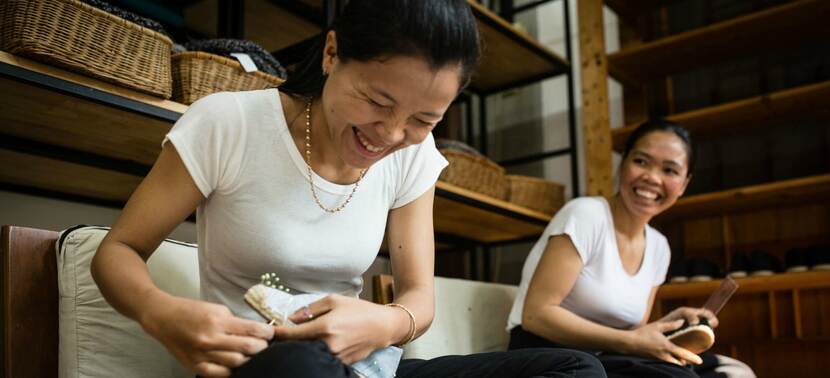 Godie van de Paal had a completely different career before she founded Kingdom of Wow. She learnt that many Dutch importers were unhappy about the working conditions in which their products were being made. "As a small customer, you are not in a position to apply pressure to a supplier," she explains. "They will tell you that what you are asking is too expensive. But I did not believe that for a minute."
Terms of employment
After moving to Cambodia, Godie began working to prove the opposite. "Here, our employees make slippers in good working conditions. We offer fair pay, free lunches, insurance and childcare." Because it takes 3 months to train a new employee, the company has an economic interest in making sure employees continue to work there for a long time. "A daycare facility and free lunches are simply good investments," Godie says.
Marketing and sales
While the production facility was running smoothly in no time, sales were slower to respond. "Marketing and sales were unknown territory for me," Godie explains. With financial support from the Technical Assistance (TA) programme from the Dutch Good Growth Fund (DGGF), administered by the Netherlands Enterprise Agency, Kingdom of Wow was able to hire a marketing and branding expert. 
"I had no experience with that at all, and every cent of our revenue went right back into production," says Godie. Because the slippers are made by hand, the production cycle is quite long. Kingdom of Wow did not yet have enough reserves to bridge the long period of time between purchasing the raw materials and receiving payment from customers. "With prefinancing from the TA, we were able to break that cycle."
This action yielded quick results. Due to the resulting growth in sales, Kingdom of Wow decided to expand into the United States. Interest-free loans from the Netherlands Enterprise Agency enabled them to finance their stock. As a result, the company was able to establish itself in the United States. They are now exploring the possibility of an ongoing collaboration with a well-known Dutch brand. Kingdom of Wow has already launched a joint collection with that brand in the Dutch, German and Belgian markets.
Sustainable staffing policy
Godie is moving ever closer to her goal of proving that it is possible to create sustainable employment. "When companies treat their employees fairly, the companies benefit, too," she says. "According to our marketing expert, our products actually last too long to be profitable. But our customers also tend to buy slippers for their friends or recommend us to family members. In the end, you get what you pay for."
Would you like to know more?
Would you like to set up an impactful international business like Godie? Via the DGGF fund, the Netherlands Enterprise Agency finances projects in developing countries and emerging markets on behalf of the Ministry of Foreign Affairs. Simply send us an email and our advisers will be happy to provide tailored advice with no obligations.