A new irrigation system for farmers in Sudan
Mohammed Al Fakee came to the Netherlands from Sudan 9 years ago. He fled his country to escape the Al Bashir regime. He now has a start-up, Green Wheel Tech. He aims to improve irrigation techniques and food security in his homeland.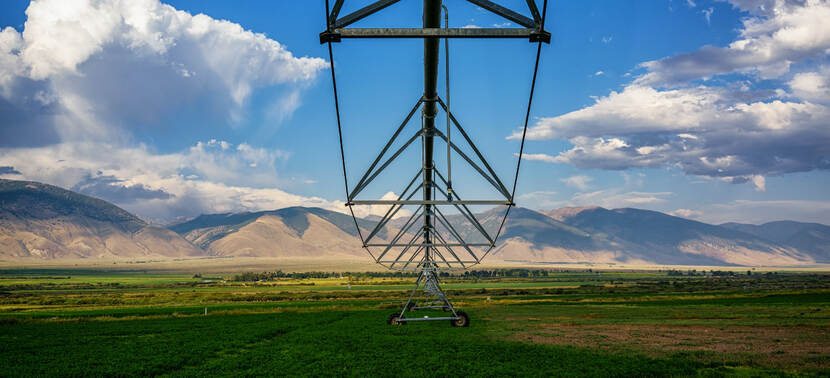 It all started with a conversation between Mohammed Al Fakee and his family. They talked about the irrigation problems in Sudan. Many Sudanese farmers depend on diesel as fuel for pumping water. Another problem is that they often use too much water. Al Fakee immediately wanted to help.
The problem is that the diesel supply in Sudan is often too small to meet the high demand. The result is high prices. The farmers also use too much water because of old-fashioned techniques. The crops do not grow as well as they could.
Irrigation system based on solar power
Al Fakee thought about how he could help these people. "I am an engineer, so I invented a sustainable irrigation system that runs on solar power."
He then took this idea to Forward Incubator. This 'start-up accelerator' helps newcomers to the Netherlands set up their businesses. Al Fakee's coach, Ernst Peter Hovinga, was inspired by his idea. Today, they are co-owners of the company Green Wheel Tech.
Green Wheel Tech's new irrigation system offers two important innovations. It gives the farmers a clean, sustainable solution that does not depend on diesel. And thanks to sensors, the irrigation system also uses exactly the right amount of water. Al Fakee: "This ensures less water is wasted and helps the crops grow better." Hovinga: "In this way, people can save money and grow more crops at the same time."
Financing
The company is still in the start-up phase. Even so, it has received financial support from the Netherlands Enterprise Agency's Dutch Good Growth Fund (DGGF). This has enabled it to set up a project in Sudan. Al Fakee explains that the goal of the project is to encourage farmers to switch to the new technology. "If we can convince the farmers, we can gain access to a new market here and sell our system."
Hovinga adds that their company has a clear social purpose. "But you need a strong business model as well." If the Sudanese farmers buy their system, the pair will be able to keep developing it. Further research will help them make it even better. "By doing so, we can improve food security and economic independence for many more people."
Would you like to make a global impact too? The Netherlands Enterprise Agency, acting on behalf of the Ministry of Foreign Affairs, has set up DGGF to finance projects in developing countries and emerging markets. Our advisers will be happy to give you tailored advice without obligation. Email us: if@rvo.nl.