'The Entrepreneur Stories': an essential source of healthcare in Vietnam
Since 2014, DGGF - Financing Local SMEs has been a driver of improved access to finance for the missing middle in frontier markets and has supported the creation of over 45.358 jobs. Behind this number of jobs created are the stories of inspiring entrepreneurs who, with the trust and support from the DGGF investment funds, have been able to maintain and create jobs, stimulate innovation, and drive inclusive economic growth, even amidst the Covid-19 pandemic.

"The Entrepreneur Stories" series show a glimpse of the business- and daily activities of the DGGF SMEs financed. This time we introduce Truong Hoang Thanh Truc, co-founder of Trung Son Pharma.
Entrepreneur Stories Trung Son Pharma Vietnam
Trung Son Pharma
Trung Son Pharma is a pharmaceutical chain in Vietnam which dispenses vital medicines and serves as an important first port of call for medical advice. Many people in Vietnam do not have health insurance, therefore they rely on pharmacies as their primary source of healthcare, consultations, and medicine. Trung Son Pharma opened its first permanent branch in 1998 and by 2018 had grown to ten stores but it was found that scaling is difficult without investment. In 2018, Trung Son partnered with Asia Business Builders (ABB), an investment fund which provides capital to small and medium-sized growing businesses in Vietnam and is part of the DGGF investment portfolio. In the next three years, Trung Son Pharma grew from ten to almost 100 pharmacies and as of today is one of the largest retail pharmacy chains in Vietnam.
Protecting the community amidst a pandemic
Despite the threat of Covid-19, Ms. Truc and the rest of the Trung Son family kept on working to provide vital health support to thousands of Vietnamese people. The company also joined hands to fight the pandemic and in particular protect disadvantaged and vulnerable communities. Many products, including 100.000 masks, medical gloves, and antiseptic gels, were distributed to quarantine checkpoints and people in difficult circumstances such as street vendors, lottery ticket sellers and low-income families. Ms. Truc: "we need to love our customers enough to realise what they need most so we can provide them with it".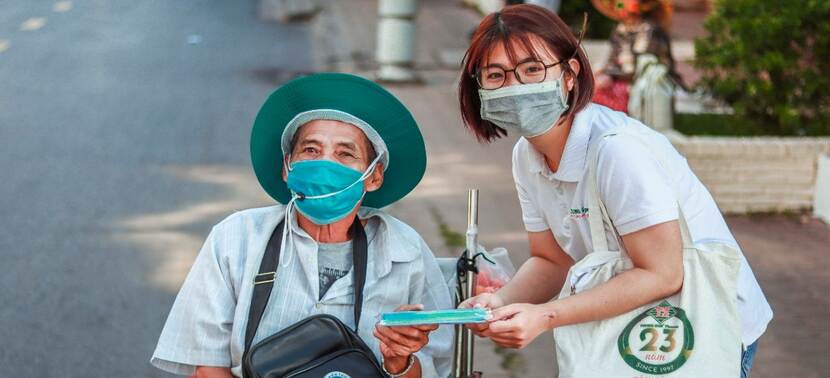 Investing in Vietnam with Asia Business Builders
Asia Business Builders is a Vietnam-focused merchant bank boutique that manages a growth private equity fund that successfully completed investment and advisory transactions worth over $300m for fast-growing Vietnamese SMEs. The ABB I fund became part of the DGGF investment portfolio in 2018. This fund focuses on providing risk capital to small- and medium sized growing businesses in Vietnam. The fund primarily invests in equity capital with a ticket size between $1-5m. ABB invests in retail, healthcare, education, logistics and other sectors that cater to the increasing local consumer demand.