SC&BD investee Kobo Hub awarded Best Accelerator Programme of Central Africa 2021
Kobo Hub, a Congolese platform dedicated to the acceleration of start-ups and young companies in the Democratic Republic of Congo (DRC), has received an award for their acceleration programme. The Global Start-up Awards (GSA) bring together high impact start-ups and investors from over 100 countries to empower the entrepreneurial community in its commitment to progress and innovate.

Kobo Hub helps start-ups to grow by providing a network of multidisciplinary experts, access to the skills, resources, and the infrastructure essential to the success and growth of their projects. Kobo Hub has received the award for best accelerator/incubator programme in Central Africa that empowers entrepreneurs to foster the growth of their innovative companies by providing tools, resources, connections, knowledge, and expertise.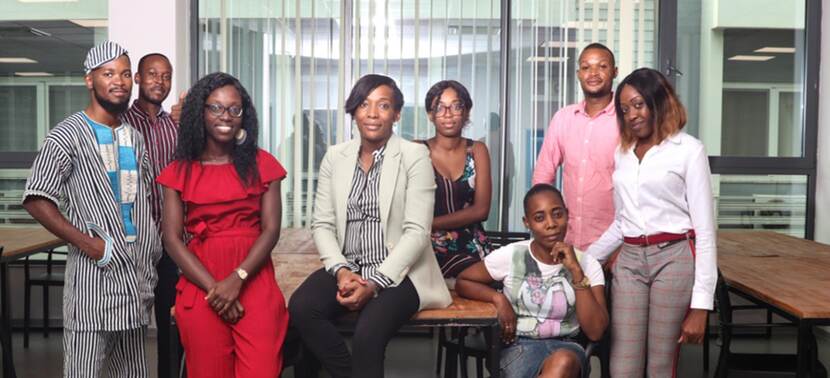 Business accelerator in the DRC
In DRC, early-stage dynamic businesses' growth is most often constrained by weak business models, limited capacity to execute, and lack of appropriate early-stage finance. Kobo Hub responds to this by developing an innovative ecosystem for entrepreneurship through their accelerator programme, the Kobo Academy, and by offering workspaces. With the DGGF Mentoring Support provided by the SC&BD facility in 2019, the young entrepreneurial team of Kobo Hub - first established in 2018 - has been able to refine their value proposition in the ecosystem and develop the business model to enable them to accelerate the growth of local early-stage dynamic enterprises. In 2021, Kobo Hub became part of DGGF's Incubation Ecosystem Support Programme and is receiving support to build an efficient acceleration programme with a portfolio of DRC-based early-stage businesses.
Kobo Hub does not invest money directly into start-ups but enhances the build-up of relevant skills to turn a start-up into a real business. This comprises a tailor-made programme with training, workshops, coaching, mentoring, and expertise in management, technical, commercial, marketing and legal support. Having access to knowledgeable and reliable resources, networks, and exposure to guide their decision-making process is critical to navigate the entrepreneurs in their journey towards growth and success.
Empowering leading innovators
The Global Start-up Awards searches for 'Africa's leading innovators with solutions that light, feed, industrialise and improve the quality of life of Africans'. In 2018, the Central Africa Start-up Awards were launched to reward and support impactful entrepreneurs and innovative ecosystem leaders in the region. GSA focuses on the key areas of environmental sustainability, inclusive economic growth, technology and innovation, and cross-border collaboration. GSA identifies and offers rewards to promising start-up businesses, rising innovation leaders, tech start-ups, and entrepreneurs that demonstrate innovative solutions to address Africa's enormous unmet demands. Receiving an award offers start-ups exposure, access to new markets, and connects them to a global network of innovation ecosystems and leading investors.