The ecosystem approach of DGGF: entrepreneurs need more than finance alone
To ensure sustainable economic development in developing countries, not only access to finance is essential, but also a healthy business environment in which start-up entrepreneurs can get the guidance they need. DGGF – Financing Local SMEs is keenly aware of this, and therefore applies a unique ecosystem approach, which specifically focuses on creating a supportive environment for businesses to thrive and contribute to local economies. Hence, DGGF combines financial investments with capacity building and technical assistance programs, to foster the provision of hands-on practical support to local entrepreneurs. In this way, the likelihood of long-term success is increased.
Moreover, DGGF contributes to local entrepreneurship support organizations (ESOs) and business accelerators through our Seed Capital & Business Development (SCBD) facility. These organizations are indeed essential in building a robust entrepreneurship ecosystem. They for example provide training and mentoring programs to entrepreneurs, support the development of business networks, and facilitate knowledge exchange between businesses and relevant stakeholders. This knowledge-sharing helps entrepreneurs navigate the challenges of starting a business, and make informed decisions in terms of, for example, business planning, financial management, and marketing strategies.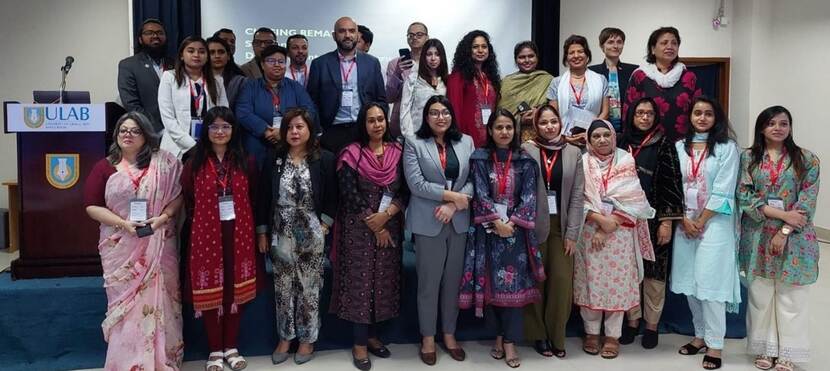 Connecting angel investors with starting entrepreneurs in Bangladesh
One of DGGF's investees that exemplifies our ecosystem approach is the Bangladesh Angels Network (BAN). In 2017, the Dutch Good Growth Fund supported Aavishkaar Capital to conceptualize and implement this network, which connects angel investors with early-stage startups in Bangladesh. In partnership with local start-up ecosystem leaders in Bangladesh, BAN makes it easier for early-stage, technology enabled entrepreneurs to access risk capital. In this way, the community-driven network aims to foster entrepreneurship and support the growth of innovative startups in the country.
Moreover, Aavishkaar established BAN with the vision of creating a vibrant startup ecosystem in Bangladesh by providing access to mentorship and a network of experienced professionals. BAN's investors not only provide financial support but also bring their expertise, industry knowledge, and networks to help startups succeed. The network indeed organizes various events, workshops, and pitch sessions to facilitate interaction between investors and entrepreneurs. The network thus plays a crucial role in facilitating knowledge sharing and mentorship, helping entrepreneurs to build and scale their businesses.

Improving the entrepreneurial ecosystem in West Africa
Another DGGF investment that followed from our ecosystem approach is the Dakar Network Angels (DNA) based in Dakar, Senegal. This organization aims to support and invest in early-stage startups and entrepreneurs in the West African region that have the potential for high growth and positive social impact. DNA brings together a network of experienced angel investors who provide funding, mentorship, and expertise to help startups grow and succeed. The mentorship includes guidance on business strategy, market positioning, product development, and scaling operations.
By connecting startups with experienced angel investors and supporting their growth, DNA contributes to the entrepreneurial ecosystem in West Africa. DGGF supports the initiative since 2020. The SC&BD facility provided technical assistance to help the DNA improve the quality of its interventions and the sustainability of its operations. In the video below, two members of the DNA talk about the need to support the entrepreneurial ecosystem. Through DNA, they are thus committed to assisting entrepreneurs both financially and practically. The video provides a good illustration of the ecosystem approach of DGGF.