Panic-buying leads to European 'roll-out' of The Good Roll
As soon as the panic-buying of toilet roll started before the lockdown in March, social enterprise The Good Roll quickly realised the need to focus their strategy on their webshop and social media. Their 'feel-good' toilet paper helps prevent deforestation, and they also build toilets in Africa. In 2021, they also want to start manufacturing toilet paper themselves in Ghana.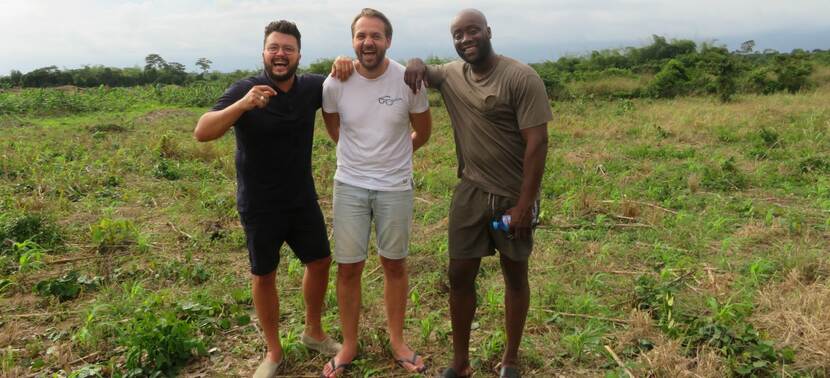 The Good Roll was founded by former restaurant and nightclub owners Sander de Klerk and Melle Schellekens. "We wanted to help make the world a better place," explains De Klerk, "so we started selling 100% recycled and non-bleached toilet paper. We source it from Germany and pack it into colourful packaging in social workshops here in Weesp. 50% of our net profit goes towards building latrines in Africa together with the Simavi Foundation, first in Uganda and Tanzania, and now also in Ghana."
How has the COVID-19 crisis affected your business?
"Our main business-to-business market completely collapsed with the closure of all restaurants and gyms. Suddenly, on 9 March, people started to panic-buy toilet paper, and we immediately seized this opportunity. We intensified our focus on the webshop and social media to target the consumer market. Besides the Netherlands, Germany and Belgium, we also added the United Kingdom to our target market. We offered a budget range, devised some catchy promotions and refused to increase prices. It was a great move: since the lockdown began, turnover from our webshop has increased by 50%. This has helped offset the losses in the other sectors."
How are you doing now the panic-buying is over?
"Things have certainly calmed down, though our brand has grown substantially. Since the crisis, people seem to be taking the issues of sustainability more seriously. This is a positive sign for the future of society. We are going to start supplying a major German supermarket, and we have also expanded our webshop to include Denmark, Sweden and Finland."
Is it true you're opening your own factory in Ghana?
"Yes, that project was already up and running. Recycled paper is becoming scarcer and thus more expensive, so we went in search of different raw materials. An advisor from the Netherlands Enterprise Agency gave us the idea of using a fibre-rich agricultural by-product. With the help of DGGF Technical Assistance, we investigated the possibility of setting up our own factory in Ghana. This raw material, which is currently disposed of as waste, will become an extra source of income for the farmers. Also, the port is perfectly located to enable shipment of the toilet roll to Europe and the US. The Netherlands Enterprise Agency's coaching has been wonderful, and their staff are extremely dedicated. If discussions with them about DGGF start-up funding are successful, we can get things 'rolling' by the start of 2021. The site and the team are already in place, and the machine is on the way from China."
Have your plans been affected by the coronavirus measures?
"Ghana was under lockdown for two weeks, and although it has now been relaxed, the borders remain closed to foreigners. We are staying in touch with our local team in Ghana by phone and via Skype and Zoom. The team is working as healthily and as safely as possible, using face masks and hand sanitiser, among other measures. Manufacturing and transport have continued as usual, as toilet paper is an essential product."
Social impact possible even with bulk products
"The Good Roll shows that even a bulk product such as toilet paper can have a social impact abroad," explains Mieke Flierhuis, investment manager for DGGF start-up funding at the Netherlands Enterprise Agency. "This business innovatively helps to prevent deforestation, provides sanitation facilities and creates local jobs. The Netherlands Enterprise Agency provides funding opportunities for entrepreneurs active in less high-profile markets such as Ghana."
Would you like to know more?
Read more about The Good Roll.
Would you like to set up an impactful international business like The Good Roll? Via the DGGF fund, the Netherlands Enterprise Agency finances projects in developing countries and emerging markets on behalf of the Ministry of Foreign Affairs. Simply send us an e-mail and our advisers will be happy to provide tailored advice with no obligations.