On the rise: a shining star amongst fossil giants
Initially providing energy to local communities and farmers, the entrepreneurial company SolarNow, an investee of DGGF investee Novastar Ventures, currently offers solar energy to over 50,000 households, large businesses, hospitals, schools and other public organisations, including the Dutch Embassy. Founded in 2011, the company has set out to provide sustainable and affordable energy in East Africa through solar appliances and financing solutions. To do so, it has set up around 70 branches located in Uganda and Kenya, headquartered in Uganda's capital, Kampala. 
Opportunities in solar energy
As Africa only accounts for 2% of total global investments in circular energy, SolarNow has an important regional impact. The SME has stepped into a market where rising prices of fossil energy and environmental urgency further the need for clean energy solutions, while circular energy shows cost opportunities and big potential for the African continent. Opportunities include a vast majority of solar, wind-based, hydro and geothermal resources, in addition to an abundance of raw materials needed to produce sustainable technologies such as windmills and batteries. Over the last years, costs of renewable energy have decreased significantly, in which solar energy costs even showed a decrease of 82% in 2020. Furthermore, while there are various small entrepreneurs and low penetrability in the top segment of the solar market, the mid-segment in which SolarNow operates is more accessible.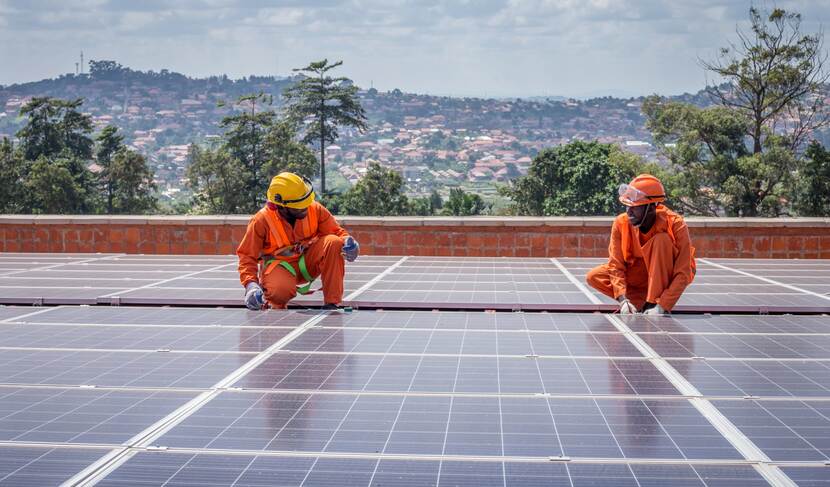 Impact through productive use of energy
SolarNow started on a commission-based business model by selling solar kits to local households and expanded to targeting businesses since 2020 after company successes. A driving factor for the company's business model is the concept of "productive use of energy" (PUE), which sets out to create income and productivity growth while decreasing costs, all by use of energy. Examples of this are increased agricultural yields and decreased electricity or fuel bills. SolarNow aims for productivity optimization by offering a competitive product to homes, businesses and agriculture, which provides a solution to the local off-grid infrastructure and is claimed to pay back the purchasing costs in four years. Further success factors include its proclaimed service, reliability and flexible payment options.
As a result, the once small company has grown to over 900 employees and already reduced greenhouse gas emissions by 210,000 tonnes. Furthermore, SolarNow has won the people's choice award in the category "Consumer choice solar power service provider for the whole country of Uganda", which is one of the most renowned business awards in Uganda.  Along with its environmental effects, SolarNow generates impact for local farming, food security, businesses and households. Therefore, not only its mission but its effects are aligned with Sustainable Development Goal 7 (SDG7): Access to affordable, reliable, sustainable and modern energy for all by 2030.
Financing
SolarNow is an SME which received investments from Novastar Ventures East Africa Fund. Novastar has been a longtime investment of DGGF, including both the Novastar Fund I, DGGF investee since 2015, and the Novastar Fund II, which is part of DGGF's portfolio since 2018.