African Angel Academy welcomes 93 New Emerging Angel Investors
With 93 new emerging angel investors, the African Angel Academy (AAA) officially kicked off their sixth and largest cohort to date. AAA is an African-led initiative that virtually trains and supports new or current angel investors.

DGGF's Seed Capital and Business Development (SC&BD) facility supports AAA with improving and scaling their service delivery, developing a business model, and enhancing knowledge development. By training new and aspiring angel investors and building stronger business networks, more investments and a conducive early-stage finance sector will be created for African entrepreneurs.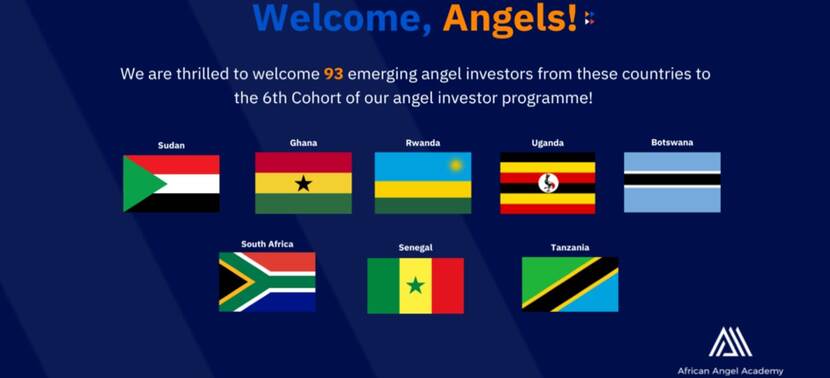 Angel investor training programme
During the flagship, 13-week virtual learning programme, participants attend exclusive masterclasses and will partake in a valuable learning exchange about the angel investing process and landscape, presented by the continent's top angel investors. Networking is a very important part of the programme; the angel investors are connected to a broader angel community to form connections and collaborations for co-investment, develop their deal pipeline, and increase their support to start-ups.

The sixth AAA cohort is realised in partnership with DGGF-Financing Local SMEs. Moreover, Orange Corners and The World Bank are supporting in charting new territories and bringing the flagship programme to emerging angel investors based in Ghana, Rwanda, Uganda, Botswana, Senegal, Sudan and Tanzania. Orange Corners is, like DGGF, an initiative of the Ministry of Foreign Affairs of the Netherlands and provides young entrepreneurs across Africa and the Middle East with training, mentorship, network, funding, and facilities to start and grow their businesses.
Studies have shown that innovative hybrid investment approaches, combining elements of angel investing, crowdfunding, and venture capital, have successfully mobilised more comprehensive seed capital for promising entrepreneurs.
New era for angel investing in Africa
Access to early-stage angel and seed funding is still a barrier to growth for many entrepreneurs, despite the increase in angel activity over the past few years. In December 2021, DGGF shared a knowledge item around Angel investing and how innovative approaches to angel investing are reducing the early-stage financing gap for African high-growth ventures. This study has shown that innovative hybrid investment approaches have successfully mobilised more comprehensive seed capital for promising entrepreneurs. Hybrid models are combining elements of angel investing, crowdfunding, and venture capital. The years ahead will reveal the financial returns of these new, hybrid investment models and their investees.
Nonetheless, the lack of data on angel investing makes it difficult for angels, follow-on investors, and donors alike to form realistic and informed analyses and expectations of activities in the sector. Better understanding of effects on job creation, inclusiveness and ESG impact through data collection is needed. In line with this gap identified, DGGF will also be involved in supporting AAA's knowledge development activities, such as advice on an expanded research framework for yearly data collection to capture the status of angel investment activities in Africa. Likewise, data-backed knowledge products will be created in the future to enhance sector-wide learning. 
Click here to read more about angel investing and the SC&BD support provided to the African Angel Academy.